One of our favorite things about our break rooms is how customizable they are. We don't believe in making a one size fits all break rooms Will meet with you and determine what's best for you and your employees. Custom break rooms can include everything from the food and beverages to the break room layout. Let's dive in and see what you'll need to think about when creating a custom break room.
Be mindful of space.
When creating a custom break room in Hartford, CT, the layout of your space will be a significant determining factor. The layout you're working with will determine how many coolers we install or how we display your shelf-stable items. But don't worry too much about the space; we can create a fantastic break room out of any space. The only thing we'll need is access to electricity.
Think about your employee's lifestyle habits.
What you stock in your Baltimore, Hartford, and Washington, DC break rooms should depend on your employees and their lifestyle habits. For example, if your employees eat healthily, you'll want to stock the break room with healthy refreshments. Or, if your employees prefer to bring their lunch, then you'll want to focus more on snack vending, beverages, and coffee. To better understand, consider these questions when thinking about your employee's lifestyle habits: When do they eat? What do they eat? How often do they eat at work? Do your employees drink coffee? Are they on a special diet? Do they eat healthily?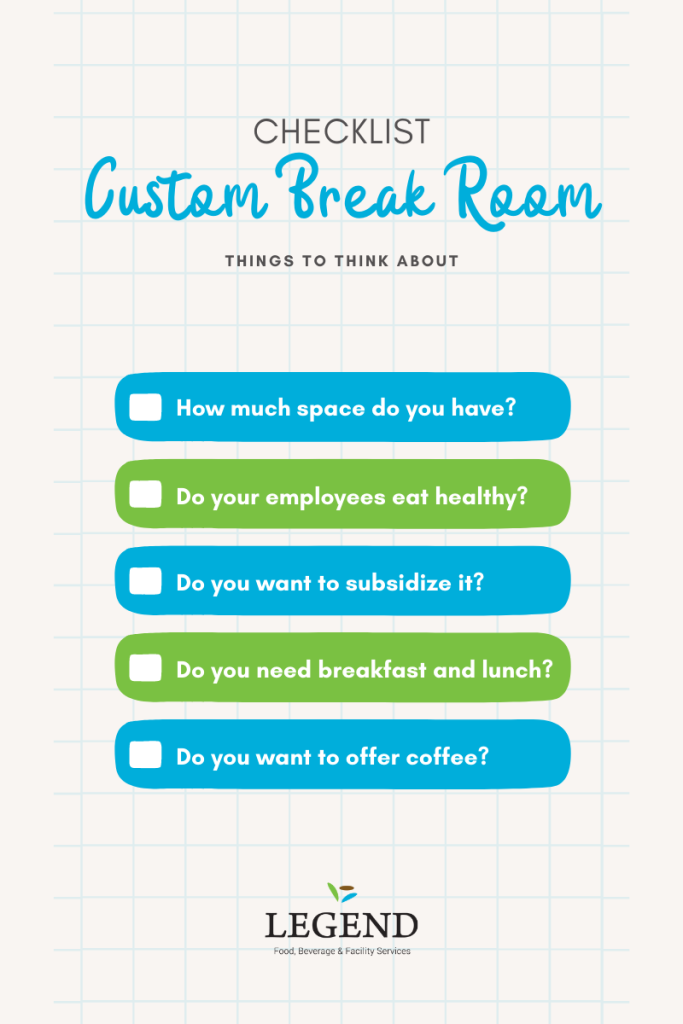 Will you subsidize your custom break room?
Baltimore, Hartford, and Washington, DC micro-markets and vending machines are usually employees paid, but many businesses opt to subsidize some of their employees' costs. The best part is we will manage all of that for you. All you have to do is tell us how much you want to offer your employees each month, and we'll preload that on their account. But, if you're looking to pay for all of your employees' refreshments, a pantry service is a great option.
Do you want to offer an office coffee service?
Let's talk coffee! Do your employees drink coffee? Are they late to work because they stopped for coffee? Or do they leave throughout the day to run to their favorite coffee shop? If you answered "yes" to any of these questions, you might want to consider adding office coffee service to your break room. Whether you're looking for single-cup coffee options in Hartford, CT, or traditional coffee service, we can help you pick the right coffee service for your employees.
Are you ready to get set up a custom break room for your office? Let's chat! Our experienced team will help you choose the perfect services for your office. To learn more, contact us at Legend Food Service or call us at 475-549-1045 today! We look forward to hearing from you soon!